Teen Driving Law Updated
The Senate passed House Bill 4493 by a vote of 30 to 5 on the last day of the current legislative session.  Bill is going to Governor Granholm's desk for approval.
House Bill 4493 will improve MI GDL law to:
Limit GDL level 2 drivers from having more than one non-family member passenger under age 21. Immediate family members are exempt, as well as travel to and from school and school-sanctioned events. The risk of death increases 158 percent with two passengers and 207 percent with three or more passengers. Prior to this plan, Michigan was one of only eight states without a GDL passenger limit.
Restrict GDL level 2 night driving starting at 10 p.m. and ending at 5 .m. with exceptions for driving to and from work. This only impacts driving hours; it is not a curfew. Night driving between 9 p.m. and 1 a.m., as well as the hours driving to and from school are the deadliest for inexperienced drivers.
Class-room instruction, designed to provide teens with defensive driving skills.  For a list of Certified Driver Ed listed by Michigan county.
Level 1 teen Learner's License
Requirements
The teen must be at least 14 years, 9 months old to apply for the Level 1License.
Must have a Certificate of Completion for Segment 1
Must present proof of:
A Social Security number or letter of ineligibility
U.S. citizenship Identity
Michigan residency
Parent/guardian signature required on application
Pass vision screening required by Secretary of State
Availability
Obtain Level 1 License at a Secretary of State branch office
May only drive with licensed parent/guardian or designated licensed adult age 21 or older
Parent/guardian or designated adult should sit in the front seat
If driving with a designated adult, driver should carry a signed letter of authorization from parent/guardian
Level 2 teen Intermediate License
Requirements
Teen is at least 16 years old
Meet physical and medical licensing standards
Possessed a Level 1 License for six months
Completed Segment 1 and 2 of an approved driver education program
Passed a driving skills test and presented a skills test certificate
Must present proof of legal presence. (Proof of a Social Security number, identity and Michigan residency will also be required if it was not provided at Level 1.)
Completed a minimum of 50 hours of supervised driving time, including 10 hours at night
Must be violation and suspension free, and have no at-fault crashes during the 90 days prior to applying for the Level 2 License
Have a parent or legal guardian sign the application and certify the minimum 50 hours of behind-the-wheel driving experience
Availability
Obtain Level 2 License at a Secretary of State branch office (a fee is required)
Restrictions
Between midnight and 5 a.m., teen must drive with a designated licensed adult over age 21 unless driving to and from employment
Parent Option
Parent/guardian has the option of requesting in writing that the teen driver remain at Level 2 and not automatically advance to Level 3 at age 17. Request must be made at least 30 days before teen's 17th birthday.
Level 3 teen License
Requirements
Teen is at least 17 years old
Held Level 2 License for six months
Must be violation- and suspension-free, and
have no at-fault crashes for 12 consecutive months prior to applying for the Level 3 License
Availability
With parent/guardian approval at Level 2, the Level 3 License is automatically mailed to teen If approval was not given, parent/guardian and teen must go to a Secretary of State branch office
Restrictions
No fee is required
No state-imposed license restrictions
Parent or guardian may restrict or cancel the license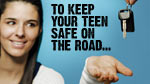 State Farm the biggest insurer of young adults has a safe driving program called Steer Clear® Safe Driver Discount Program, they also have a good student program for teen drivers if you would more information on Michigan teen discounts visit State Farm® Agent Jay online or call 248-888-1134. If you would like other more information on Michigan auto discounts and other teen discounts click on how to save on your Detroit auto insurance.